Cambridge graduate praises the transformative power of scholarships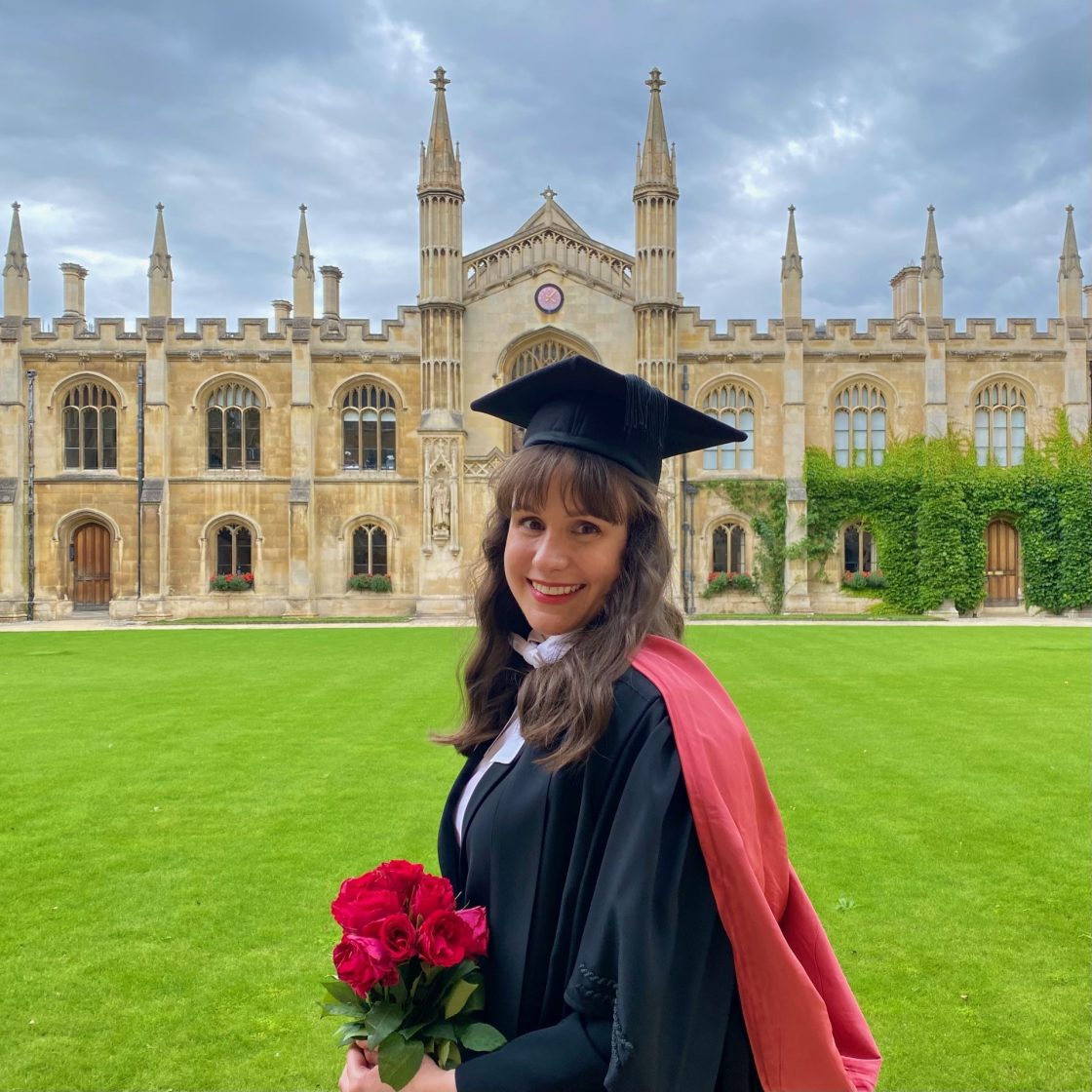 Eliza Lockhart studied for a Master of Law (LLM) and MPhil in Public Policy (MMP) at Corpus Christi. Originally from Australia, she graduated from her LLM in 2019 and her MPhil in 2022, and currently works as Research Fellow in the Centre for Financial Crime and Security Studies at the Royal United Services Institute.

Before coming to Cambridge, Eliza worked as a solicitor at Allens Linklaters LLP specialising in anti-bribery and corruption matters, risk and compliance practices, business and human rights obligations, and intellectual property law.
In 2019, Eliza was awarded a Cambridge Australia AP Platt Scholarship to study a Master of Law (LLM). Eliza graduated with First Class Honours and was awarded the Corpus Christi College Postgraduate Prize for outstanding examination results. Aside from her academic success, Eliza thoroughly enjoyed participating in all aspects of Cambridge life and was elected to Corpus Christi's MCR Committee, won the Cambridge vs Oxford "Corpus Challenge" Moot, and was elected as the Graduate Law Student Representative on the Law Faculty Board. 
For her service, Eliza was Highly Commended in the Cambridge University Outstanding Student Contribution to Education Awards for 'going above and beyond in representing the student voice on teaching and learning matters.'
After completing the LLM, Eliza returned to Australia and was appointed as Associate to The Hon. Justice Kenny AM, a senior judge of the Federal Court of Australia and Chairperson of the Australian Electoral Commission. Eliza provided comprehensive legal, academic, and administrative support to Justice Kenny, and assisted with the management of electoral integrity during the 2022 Australian Federal Election.
Eliza returned to Cambridge, and Corpus Christi College, in 2022 on a Cambridge Australia Allen Scholarship, funded by Charles Allen AO, himself a graduate of Corpus Christi. Eliza completed an MPhil in Public Policy (MPP) specialising in policy at the intersection of law, technology, finance and security. Speaking about her studies at Cambridge, Eliza says: "It has been an intense and rewarding experience, full of enriching academic, professional, cultural and personal opportunities. I will greatly miss being a part of this unique and vibrant place."
In 2022, Eliza was honoured to be appointed as the inaugural President of the Cambridge Australia Scholarships (CAS) Scholar and Alumni Community. In her own words, "it has been a great privilege, and an absolute pleasure, to have been given the opportunity to get to know all the current CAS scholars and I am constantly in awe of their fierce intellect, remarkable resilience and immeasurable talent." Eliza looks forward to continuing her passion for empowering students to attend Cambridge University as, in 2023, Eliza was invited to join the CAS Board as the Director of Alumni.
Reflecting on her own experience, Eliza says, "it is not an understatement to say that my time at Cambridge transformed the trajectory of my life and it would not have been possible without the generosity of CAS and the Cambridge Trust. The power of scholarships is immense and far-reaching, as they enable students to build a brighter future not only for themselves, but also for their community and the world. My own experience has caused me to ardently believe, to borrow the words of Benjamin Franklin, that an investment in knowledge always pays the best interest."
Following the completion of her MPP, Eliza has accepted the position of Research Fellow in the Centre for Financial Crime and Security Studies at the Royal United Services Institute. Eliza looks forward to pursuing research that promotes democratic robustness and protects the rule of law, in an era of increasing foreign interference.
Back to listing